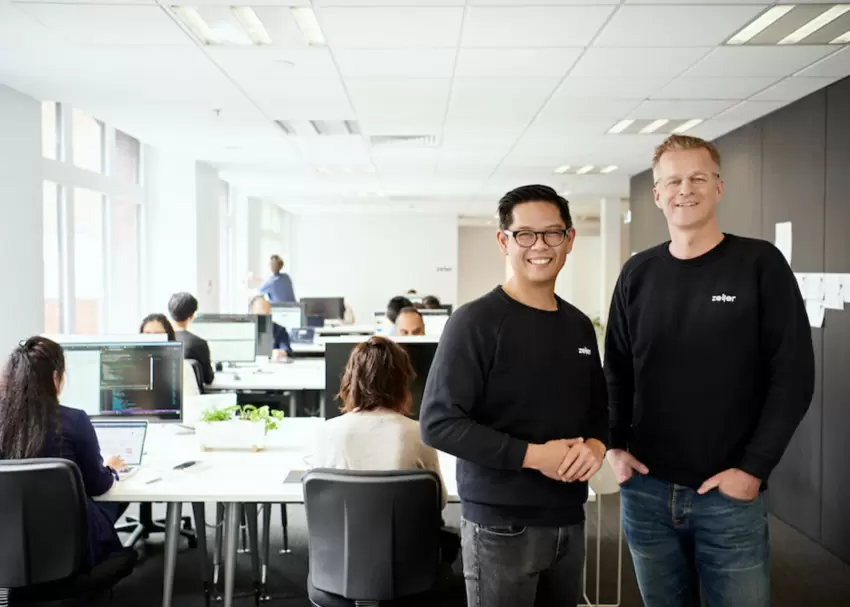 Square Peg Capital investee company Zeller has launched a product that it hopes will disrupt conventional business banking.
The Melbourne-based business, which was set up last year, is offering its business banking product for SMEs in a box on the shelves at Officeworks.
Through the partnership with Officeworks, buyers get a next-generation EFTPOS terminal, a free business transaction account, and access to a business Mastercard. They simply set up the account and start using it. Funds received via the Zeller terminal are deposited in a Zeller transaction account and can be remitted to any bank account where they will be accessible the next day.
Zeller founders, chief executive Ben Pfisterer and chief operating officer Dominic Yap, are both former local executives of US-based payments processing company Square.
They believe the simplicity of setting up banking facilities with Zeller, compared to one of the big four banks, will win customers who are setting up new businesses.
"When it comes to financial services and business banking, it needs to be simple," Pfisterer said.
"In the space that we're addressing, the business community, there's been next to no innovation, it's just been really stagnant, the big four bank propositions are very generic and very much the same."
Square Peg led a $6.3 million seed investment round in Zeller in July last year. Other investors in that round were Sydney-based Apex Capital and online loans business Athena.

In March, New York-based investment fund manager Addition – which raised a $US1.3 billion first fund last year – led a $25 million Series A round in Zeller. Square Peg and Apex supported the round.
Addition was formed by Lee Fixel, formerly of Tiger Global Management, soon after he left Tiger in 2019. The firm invests in early-stage and growth-stage businesses.
Apex Capital focuses on establishing, investing in and growing businesses that seek to provide innovative products and services in the financial services sector. The principals of Apex include Alex Vynokur co-founder and chief executive of BetaShares.
Image: Zeller co-founders Dominic Yap and Ben Pfisterer.