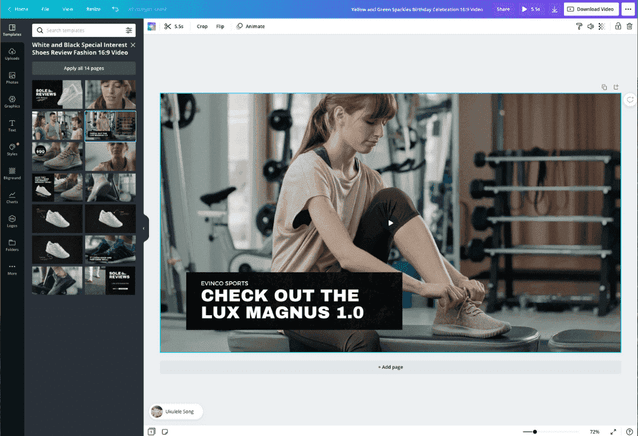 Online graphic design tools company Canva, which is now valued at $US40 billion ($54 billion), has released of its eagerly awaited video editing suite.
The Sydney-based company, which describes its mission as the democratisation of graphic design, is taking that approach into video.
The Canva Video software offers a scene-focused interface designed to enable users to break down the editing process into bite-size chunks. Users can access in-editor video previews to see how well their edits work as they go along. They do not have to keep re-loading the video.
Video templates to prepare material for specific platforms such as TikTok or Twitch banners are also offered.
Another feature of the software is targeted at the creation of educational videos. This enables users to create, and edit, videos of themselves and their computer screens.
Other features offered include animations and automatic transitions.
Canva's head of product Rob Kawalsky said most video creation software relied on a multilayer editing timeline but Canva wanted to provide a simpler way of working while still providing a sophisticated tool.
"We landed on our unique scene-based timeline which splits videos into scenes that have a similar look and feel to presentation slides," he said. "This feels instantly familiar and also means that Canva's editor offers an almost identical editing experience whether you are creating a static or moving design.
"Powerful editing features, like the ability to add animations, scene transitions and crop clips are available, but rather than having hundreds of confusing buttons at once, everything is context-specific – meaning the options present themselves as you need them."
Canva Video is included as part of the company's free tier of products.

Canva was valued at $US40 billion by a $US200 million funding round in September led by T. Rowe Price (APE&VCJ, Oct 2021). New and existing investors in that round included Franklin Templeton, Sequoia Capital Global Equities, Bessemer Venture Partners, Greenoaks Capital, Dragoneer Investments, Blackbird Ventures, Felicis Ventures and AirTree Ventures.
Microsoft announced the acquisition of Brisbane-founded video editing technology company Clipchamp in September (APE&VCJ, Oct 2021).