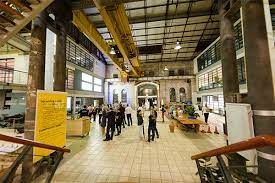 Deep tech incubator Cicada Innovations has been selected by the NSW Government to run its $2.1 million National Space Industry Hub.
The hub will have its physical centre within the Tech Central precinct which the NSW Government is seeding for development. The development area extends several kilometres west from Central Station to Camperdown and includes Australian Technology Park, South Eveleigh, where Cicada is located. The government is providing $48.2 million towards developing 250,000 square metres of office space in the area which is close to the Sydney and University of Technology Sydney (UTS) campuses. South Eveleigh is also close to Surry Hills, already a favoured location for start-up companies.
Accommodation is to be provided at the Space Industry Hub for the Space Industry Association of Australia and the NSW node of the SmartSat Cooperative Research Centre, NSW minister for jobs, investment tourism and Western Sydney, Stuart Ayres said.
"NSW is home to more than a third of Australian space start-ups, well-established research infrastructure and world class universities," Ayres said. "There is no better place to research, develop and commercialise space technology.
"This further builds on the recent NSW government investment of $1.4 million to establish the NSW Space Research Network, a group that will also be anchored at the Hub and help to progress collaboration and efforts across the industry. This is another step we are taking to ensure that NSW is the capital of the space industry in Australia."
According to the NSW government, the Hub will provide free online commercialisation training programs, industry events, access to mentors, short-term acceleration programs and affordable long-term incubation for start-ups along with secure lab facilities, clean rooms, rapid prototyping and other facilities.
Cicada chief executive Sally-Ann Williams said the incubator offered its own specialised facilities and more could be accessed through its shareholder universities, the Australian National University, University of Sydney, University of NSW, and UTS.
"Housing the National Space Industry Hub will allow us to create a home for emerging space ventures in NSW. More importantly, we'll offer these resources, mentoring opportunities and vital connections nationally through continued collaborations across the Australian space ecosystem for anyone on the path of creating a space tech venture," she said.
Image: Cicada Innovations at South Eveleigh, Sydney.