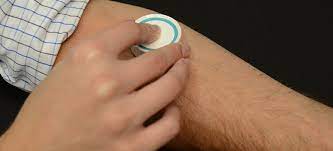 Research at the University of Queensland (UQ) has found that an alternative to hypodermic needle injection developed by venture-backed company Vaxxas could be effective for delivery of COVID-19 vaccines.
Senior researcher at UQ's School of Chemistry and Molecular Biosciences, Dr David Muller, was part of a team that tested use of Vaxxas' high density microarray patch (HD-MAP) on mice. He said the technology, delivering HexaPro vaccine, had proven effective against all major variants of COVID-19.
"We've been able to generate a broad neutralising antibody response that is capable of basically neutralising every variant we have tested, he said.

"We've tested it against ancestral Wuhan, the original virus, we've tested it against Alpha, Beta, Gamma, Delta, Kappa, Lambda and Omicron. And we see no significant loss in virus neutralising potential."
He said serum samples from twice vaccinated mice taken 21 days after a second vaccinations showed a potent neutralising antibody against all variants.
Vaxxas is an investee of Brandon Capital and OneVentures.
Vaxxas chief executive David Hoey, said the tests had shown that using Vaxxas' patch technology to deliver protein-based HexaPro vaccine was capable of neutralising all known variants of COVID-19.
HexaPro was developed by the University of Texas and the US National Institute of Health. Vaxxas has exclusive rights to produce delivery patches using the vaccine.
Novamax is the only common protein-based COVID-19 vaccine used in Australia; other vaccines are either viral vector vaccines (AstraZeneca) or Messenger RNA vaccines (Pfizer and Moderna).
Hoey said major benefits of patches were ease of distribution and cost. Vaccination dispensers could be posted for self-administration or could be made available for collection from pharmacies.
The patches are covered with hundreds of tiny needles that penetrate just below the skin to deliver vaccine when pressed against the body. They have the advantage of delivering into tissue which is much more reactive to vaccines the muscle tissue where vaccines are delivered by hypodermic needles.
Hoey said: "We're going to continue to be exposed to variants that are developing in places that are not completely vaccinated. Having technology like this can improve vaccination rates that are going to be impossible to get with a needle and syringe."
Self-administration of vaccine with a Vaxxas patch is simpler than performing your own rapid antigen test, according to Hoey. "You peel the foil, apply to the skin, push the back of it, and leave it on for ten seconds," he said.
In addition to COVID-19, Vaxxas' technology is being trialed for use to deliver vaccines for other diseases including influenza, measles and rubella.
The vaccine patches do not have to refrigerated because the vaccine is "entombed" within crystals on the patch. Contact with the skin dissolves the crystals and releases the vaccine, Hoey said.

Hoey said he expected Vaxxas' first clinical study would start before the end of the year. He anticipates the company could be approved to provide COVID-19 vaccine patches for some markets within three years.
Image: Applying a Vaxxas patch.