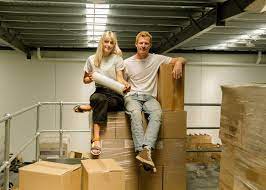 Melbourne-based impact venture capital firm Giant Leap is among overseas and local investors that have provided $24 million in Series A funding to a company that is producing biodegradable cling-wrap from potato waste.
Great Wrap was founded by Victorian couple Julia and Jordy Kay, formerly an architect and a winemaker, in 2019. The Kays spent a year in research and development with a team at Monash University to develop a production process competitive with petro-chemical based cling-wrap. They were then accepted into the Startmate program at the completion of which they sought seed-funding to launch the business.
They raised seed funding of $3 million last year from individual investors, including Simon Griffiths, chief executive of ethically produced toilet paper company Who Gives a Crap, and New York City firm Trail Mix Ventures (TMV).
TMV has now invested in the Series A round along with Giant Leap, healthier futures investment firm Groundswell Ventures, gender equality investor Springbank Collective, Woolworths (ASX: WOW) venture arm W23, Grill'd Innovation Fund and individual investors such as Darren Thomas, managing director of Thomas Food International.
The company is currently running a pilot production plant in St Kilda, Melbourne, that is mainly providing product for online direct to consumer orders and independent grocery stores.
The new funding round includes $13 million in asset backed financing from Rabobank arm DLL Group. This debt funding will be used to fit out a new 12,000 square-metre production facility at Tullamarine, Melbourne, which is expected to be the largest of its type in the southern hemisphere.
Although the current production facility is using potato waste as feedstock, other vegetable waste, including grape waste from wine production, would be suitable.

TMV, which was founded by two women, Marina Hadjipateras and Soraya Darabi, raised its second fund at $US64 million early this year.
Image: Julia and Jordy Kay with the Great Wrap product.