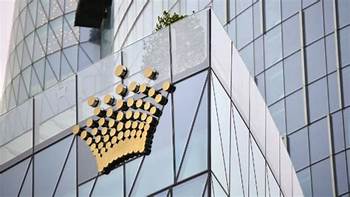 Debt-focused global investment firm Oaktree Capital Management has offered to finance Crown Resorts (ASX: CWN) buying back the stake in the business held by James Packer's family company Consolidated Press Holdings (CPH).
The transaction could be an alternative for Crown to Blackstone's $8 billion acquisition offer. Removing CPH from the share register, or substantially reducing its stake, would be expected to resolve the issue of Packer's involvement preventing the company from gaining a gaming licence for its new Barangaroo, Sydney, hotel tower.
In a 19 April announcement, Crown said it had received an unsolicited, preliminary, non-binding and indicative proposal from Oaktree to provide up to around $3 billion to buy back some, or all of, the shares held by CPH.
CPH currently holds around 37% of Crown.
Crown said Oaktree's funding commitment would be provided via a structured instrument but did not provide details.
Crown said its board had not yet formed a view on the merits of the Oaktree proposal and would commence a process to assess it. It noted that any selective buyback of Crown shares held by CPH would be subject to approval in a vote by Crown shareholders not including CPH or its associates.
On 13 April Blackstone Group revised its $8 billion offer announced on 22 March. Blackstone modified a regulatory approval condition and introduced time constraints.
Blackstone is offering to acquire all of Crown's shares by way of a scheme of arrangement at an indicative price of $11.85 cash.
The initial non-binding, indicative proposal included a condition that Blackstone receive regulatory confirmation that "a Blackstone-owned Crown is considered a suitable person to continue to own and operate the Sydney, Melbourne and Perth licences and other gaming-related approvals as required".
Blackstone has modified the regulatory approval condition to require that it receive approval, by the end of September, from each relevant state regulatory authority for it to acquire 100% of Crown.
This appeared to slightly lower the hurdles that Crown had to overcome for the deal to be completed but the introduction of time constraints meant that chances of another bidder making an offer would be reduced.
Blackstone also made continuation of its offer beyond the second court hearing for the scheme meeting of shareholders conditional on there being no threats to any of Crown's current licences, including possible restrictions, and no threats to the, not yet approved, NSW licence.
Crown is therefore expected to agree to a binding deal and then still face the prospect of Blackstone still possibly having cause to withdraw before completion.
Blackstone also indicated that its proposal was no longer conditional on arranging debt financing, a move that would help it impose its time constraints.
Earlier this year, Crown was found unsuitable to hold a casino licence by an inquiry in NSW, preventing it from commencing gaming operations at its recently opened Barangaroo, Sydney, tower hotel.
A royal commission in Victoria into Crown's suitability to hold a licence in that state is due to hand down its recommendations by 1 August. A similar royal commission in Western Australia is expected to deliver an interim report by June 30 and a final report by November.
Blackstone's modified conditional offer effectively places time limits on Crown getting assurances from regulators that a Blackstone takeover would satisfy current concerns about Crown's operations and for Crown to accept a firm offer.
Crown said, in its 13 April announcement, that its board was continuing to assess Blackstone's proposal having regard to value, terms and other considerations.
Blackstone currently holds a 9.99% stake in Crown which it acquired from Lawrence Ho-founded Melco Resorts & Entertainment for $8.15 per share in April last year.
Packer has retained Moelis to advise him on the Blackstone offer but previously indicated he plans to follow the Crown board's recommendation on how to vote on the offer.
UBS is providing Crown with financial advice and Allens legal advice.
Equities fund managers with stakes in Crown see Blackstone's offer as undervaluing the business and would have been hoping for an increased offer to seal the deal. They may, therefore, favour Crown accepting Oaktree's debt funding offer.
Crown shares fell slightly following the 13 April announcement of Blackstone revising its offer but remained above the offer price at around $12. They remained around the same level following the 19 April announcement of Oaktree's debt funding offer.