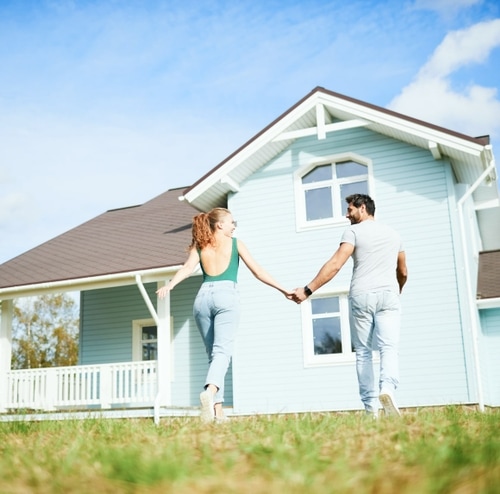 Berlin-based Global Founders Capital, which previously invested in Canva, has led a $3.6 million pre-seed capital raise for rent-to-buy home ownership start-up OwnHome.
The other major investor in the round is another international entrepreneur investment network, Entrée Capital, which has members in Silicon Valley, London, Tel Aviv and New York. Entrée Capital was an early investor in small business lender Prospa (ASX: PGL).
Australia and New Zealand early-stage investment firm AfterWork Ventures and individual high net-worth investors also contributed to the round.
OwnHome founders Tim Harley and James Bowe see themselves as at the beginning of the growth path followed by Home Partners of America which was acquired in June by Blackstone Group for $US8 billion.
But first the Sydney-based company will need to develop a market for what is a new concept in Australia. Harley and Bowe are convinced demand exists, evidenced by young people finding it difficult to build up the deposit needed to get a mortgage to buy a home.
OwnHome's business model involves a client selecting the home they would like to own and applying to OwnHome to buy it on their behalf. If OwnHome accepts, the client will then pay 1% of the purchase price to OwnHome. The company will buy the home and enter into an option-to-buy with the client. The option fixes the increase on OwnHome's purchase price at 3.8% a year. The client then moves in and starts paying market rate-based rent to OwnHome, 2.5% of which is set aside to build up a deposit for the future purchase. Including the initial 1% deposit, after five years the client will have built up 13.5% 'ownership' at the agreed price and should be well placed to seek a bank loan for the purchase.
After going through law school together Harley and Bowe launched their first start-up ten years ago, a subscription coffee supply business. The main lesson they learned from that was that building a business on door-to-door sales is a brutal process.
Ten years later, they were ready to try again and began weekly calls to discuss ideas.
"We kept circling around a desire to help out siblings to get their foot on the property ladder and find a way to surmount the 'deposit gap'," Harley said. "James had seen a business in the US solving this same problem. Very quickly we agreed that this was the problem we wanted to dedicate our energies to."
They planned the business while continuing demanding jobs, Harley as first man on the ground in the Middle East for TransferWise (now Wise) and Bowe as a senior manager at Bain & Company.
In their spare time they took part in, and won, the Commonwealth Bank's x15 Xcelerate program. After the result was announced they realised they would have to take on the project full time if they were serious about making it work. They resigned from their jobs and set up the business in October. Harley said he realised they had passed the point of no return once they decided on the name and purchased the OwnHome domain name.

From the start, they had realised that forming partnerships with banks would be essential for their customers to graduate to bank home loans. That had made qualifying for the Commonwealth Bank's x15 Xcelerate program an important step. Winning the competition then gained them the bank's initial support.
Without publicity, they then attracted around 100 potential clients, and their initial investors.
They have now accepted a small number of initial clients and are ready to make their first homes purchases. Within two years they hope to have purchased as many as 200 homes.