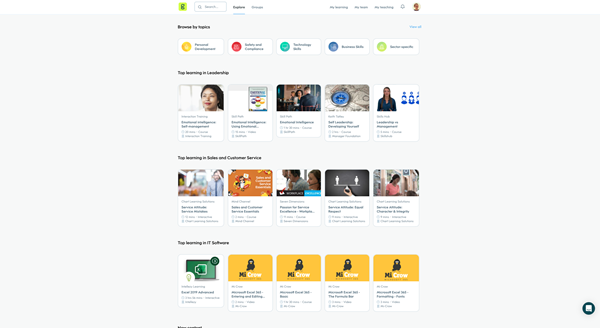 Japanese conglomerate SoftBank's Vision 2 global technology fund has led a $US200 million ($273 million) Series D funding round in Brisbane-based Go1, the provider of one of the world's largest online corporate training hubs.
The investment values Go1 at more than $US1 billion making the company Australia's latest technology unicorn.
Other investors in the round were AirTree Ventures and Salesforce Ventures along with New York growth capital firm Blue Cloud Ventures, Perth-based Larsen Ventures, Scott Shleifer and John Curtius from New York-based Tiger Global and Queensland-based high net-worth investor syndicate TEN13.
Previous investors contributing to the round included Microsoft's venture fund M12, Seattle-based Madrona Venture Group, SEEK (ASX: SEK) and Y Combinator.
Go1 has now raised a total of more than $US280 million.
The company plans to use the new investment to accelerate its global growth, particularly in the US, and expand its product offerings.
Go1's chief executive Andrew Barnes said the new funding would initially be directed at US growth.
"Expanding in the US will allow Go1 to better engage, communicate and support customers and partners, especially as they consider a new hybrid work model," he said. "As society transitions out of the pandemic, ensuring that employees have opportunities to explore learning and development resources will be essential for team retention and encouraging employee growth within the organisation.
"This latest round of funding will enable our team to not only expand internally with new global offices and job opportunities but enables us to be hyper-focused on growing our user base and advancing our product features for our customers."
Established in 2015, Go1 set out to become a learning and professional development resource for organisations and a critical distribution partner for content providers. The company says its platform's easy integration and breadth of content have led to widespread adoption both by corporations, that now have a single subscription for all workplace training needs, and training content creators, for whom Go1 provides access to larger audiences.
Managing partner at SoftBank Investment advisers, Nagraj Kashyap said: "When people think about music, they often think of Spotify and access to unlimited music for one subscription. We believe Go1 is the emerging category leader in providing a similar experience for corporate learning. Powered by AI and machine learning, Go1's platform provides an intuitive experience, and creates an opportunity for individuals to expand their professional development goals and explore the resources to help achieve them.
"With premier education providers such as EdX, Coursera, Skillsoft, and Harvard as part of Go1's subscription, an organisation can curate learning content to fit the needs and interests of its workforce."
With more than 70% of its new revenue generated from outside Australia, Go1 will focus on scaling up its team and partnerships with new platform content and resources. The company increased its user base more than 300% in its most recent annual results, largely driven by rapid expansion in overseas markets and key contracts with the Malaysian and Singaporean governments. Go1 expects additional expansion opportunities in the US and Europe to flow from its growing integration with Microsoft Teams, Workday, SAP and other online work collaboration platforms.
Microsoft Corporate Vice President, Teams for OneDrive and SharePoint, Jeff Teper said: "As many companies navigate in-person work scenarios, a plan for hybrid engagement is critical. Employees and students can access one of the world's largest libraries of online learning resources with Go1 in Microsoft Teams. Companies can also onboard new talent and ensure essential training is provided regardless of employee location."
Salesforce Ventures' Australia head Rob Keith said Salesforce had seen the demand for online learning ramp up as COVID-19 drove consumers online and companies needed to be able to train their staff to develop and deploy digital experiences for their customers.
"Go1 is well positioned to support learners and companies to develop the skills needed for today's digital economy," he said.
SEEK co-founder Andrew Bassat said his company had worked closely with Go1 for a number of years and SEEK's continued investment reflected recognition of Go1's ongoing commitment to achieve its potential to help people to up-skill and re-skill themselves for work which would be critical as the world recovers from the global pandemic.
Go1 raised a $US40 million Series C funding round in May 2020 which was jointly led by SEEK and Madrona. Other participants in that round were existing investors M12, Our Innovation Fund and new investor Salesforce Ventures. Late in 2020, AirTree invested $7 million in Go1.

Go1 was founded as a web development company by Barnes and high school friends Vu Tran, Chris Eigeland and Chris Hood. They came up with the concept of Go1 and, in 2015, were accepted into the Y-Combinator accelerator program in California.
The business now has a US operations base in San Francisco and other overseas operations in South Africa, Vietnam the UK and Malalysia.