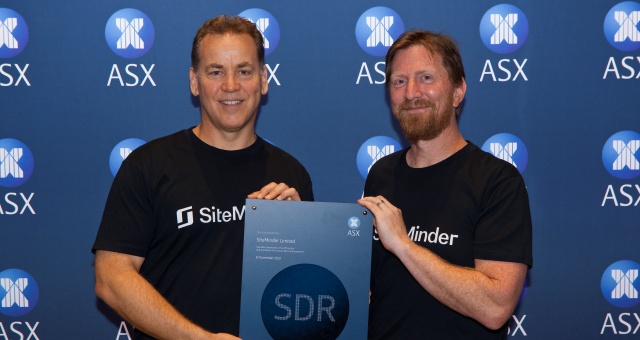 Venture-backed accommodation sector technology company SiteMinder has listed on the ASX under the code SDR after raising $627 million in an IPO in which shares were offered at $5.06.
On its first day of trading on 8 November, SiteMinder's shares rose 39% to close at $7.10. At that price, the company was worth $1.88 billion.
Substantial pre-float investor Bailador Technology Ventures (ASX: BTI), which first invested in SiteMinder in 2012, sold down part of its investment in the IPO to generate a $15.1 million cash return but retained a large holding and its position as the company's second largest shareholder.
Other pre-IPO investors included the largest investor Blackrock, AustralianSuper, Ellerston Capital, Pendal Group (ASX: PDL), Washington H Pattinson (ASX: SOL) and global investment and asset management business Fidelity International. Earlier investors included US-based growth capital firm TCV and Les Szekely of Grand Prix Capital and Equity Venture Partners (EVP) who first invested at seed stage.
SiteMinder was founded in 2006 by Mike Ford and Mike Rogers. Ford reduced his 11% stake to 4.5% and Rogers reduced his 2% stake to 0.9% in the IPO.
The company has been guided to its listing by chief executive Sankar Narayan, a former chief financial officer and chief operating officer of Xero (ASX/NZX: XRO).
SiteMinder's technology helps accommodation providers manage incoming bookings from various online booking sites against the accommodation they have available and set competitive prices for forward sales.
The company's revenue comes from subscription fees for its use of its technology and transaction fees.

SiteMinder's growth was set back by the COVID-19 pandemic but nowhere near as much as might have been expected and this was underlined by new investment pushing the company's valuation into unicorn territory.
The company has sought growth over profitability to date and remains loss-making. Last financial year's pro forma $100.8 million revenue came 83.3% from subscription fees and 16.6% from transaction fees.
Image: Founders Mike Ford and Mike Rogers celebrate SiteMinder's ASX-listing.