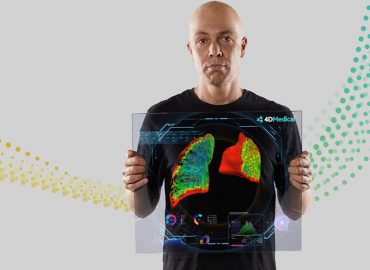 Ryder Innovation Fund investee 4DMedical (formerly 4Dx) listed on the ASX on 7 August after raising $55.79 million in a heavily over-subscribed IPO.
Shares in 4DMedical (ASX: 4DX) were issued at 73 cents and listed more than 100% up at $1.46. The shares closed the first day of trading at $1.51 on a day when the overall market fell.
The Melbourne-based company became the eighth healthcare company listed on the ASX this year with the listed healthcare sector now valued at around $240 billion.
Chief executive and founder Dr Andreas Fouras said he was incredibly excited by the tremendous show of support for "what is a very simple idea to provide additional information to enable patients and doctors to make better decisions".
4DMedical's XV technology provides lung ventilation analysis from medical images. The intellectual property behind the technology is a series of algorithms that convert X-ray images into four-dimensional data (three dimensions plus time). Hospitals can subscribe to the cloud-accessed technology as software-as-a-service (SaaS).
Conventional lung function image analysis technologies indicate the total volume of air a lung is taking in, but 4DMedical's XV technology shows whether parts of the lung are taking in less air, an important factor for many lung diseases. Using the technology, doctors can send chest x-rays to the company for analysis and receive back reports within three hours.
The XV technology has applications in treating COVID-19 as well as asthma, emphysema, pulmonary fibrosis and lung cancer. In COVID-19, it can be used to triage patients to appropriate treatments and then quickly determine how well treatments are working.
Dr Fouras has a non-medical background. Prior to founding 4Dx eight years ago, he was an academic at Monash University. While studying mechanical engineering, he developed an interest in air flows. His early research involved wind tunnels and mapping air flows over objects such as cars and aircraft. After he began PhD studies in 2005, colleagues recognised the medical potential of his research and he quickly became part of the university's emerging biomedical engineering division and was eventually funded as a medical researcher.
The National Health and Medical Research Council (NHMRC) funded the first steps of creating a company to commercialise Dr Fouras' research. He initially planned to retain his academic position and leave running the company to somebody else but soon realised he could not expect anyone else to provide the "unreasonable" effort commercialising technology required.
He took on the challenge, put up his home as security to borrow money to pay legal fees required to raise seed funding and eventually sold the home to finance the move to Los Angeles to give the company representation in the largest market for its technology.
4DMedical finally gained US Food and Drug Administration approval for commercial sales of the XV technology in May. Meanwhile, in Australia, the company had entered the technology in the Therapeutic Goods Administration (TGA) approval process in January and is hoping for approval this year.
At the company's Zoom ASX listing ceremony, Dr Fouras thanked his wife and children for their support for his decision to move the family to the US.
Prior to the IPO, 4DMedical was an unlisted public company and raised $15 million in a pre-IPO raising in December.
Professional non-executive director Bruce Rathie was appointed chairman of 4DMedical in December. Rathie is also a long-serving non-executive director of medical devices company PolyNovo (ASX: PNV).
Immediately prior to the IPO, Fouras controlled about 45% of 4D Medical. Other significant investors included Dr Sam Hubert, chief executive of medical imaging company Pro Medicus (ASX: PME), Ryder Innovation Fund LP; Perennial Private to Public Opportunities Fund; Regal Emerging Companies Fund and Tall Oaks Management.
The top 20 shareholders on listing were led by the Fouras family with 24.49%. Ryder Innovation Fund LP retained 2.38% and Perennial Private to Public Opportunities Fund, 2.18%.
The IPO was underwritten by Bell Potter and E&P Corporate Advisory as joint lead managers. 4D Medical was advised by PwC.