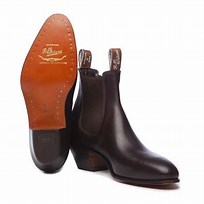 L Catterton Asia has exited "bush outfitter" R.M. Williams to Tattarang, Andrew and Nicola Forrest's family company.
No value for the transaction has been disclosed but it has been speculated Tattarang paid around $190 million. This would be an excellent return for the luxury goods private equity firm.
Predecessor to L Catterton Asia, L Capital Asia, paid $50 million for a 49.9% stake in R.M. Williams in 2013 with an arrangement to buy most of the remainder later which it did, alongside IFM Investors, for a further $50 million in 2014. IFM Investors later sold its stake to L Capital Asia.
Actor Hugh Jackman took a 5% stake in the business in 2016 and took up the role of brand ambassador. Jackman has sold his stake to Tattarang but will continue as brand ambassador.
R.M. Williams was established in the 1930s by bushman Reginald (R.M.) Williams who became famous for his leatherwork, especially elastic-sided riding boots.
The business eventually became an ASX-listed company but was placed in receivership in 1993. Former News Limited chief executive Ken Cowley, a friend of Williams, and his family then took a stake in the restructured business. The Cowley family took ownership of the remainder of the business following Williams death in 2003 and converted it to a private company in 2006.
By the time L Capital Asia invested in the business, the R.M. Williams brand had more than 50 outlets in Australia and one each in London and New York.
R.M. Williams chief executive Raju Vuppalapati said the brand had been successfully repositioned under L Catterton's control and was now the strongest it had ever been in its 88-year history.
"Our 2019 decision to invest in the second boot line, recruiting and training 100 additional employees in our Salisbury [South Australia] workshop was an important milestone to enable us to continue the growth momentum," he said.
L Catterton Asia had been seeking to exit R.M. Williams for some time and last year the business was believed to have attracted interest from a number of potential buyers but COVID-19 put any sale on hold for several months this year and made the business much harder to value.
Announcing Tattarang's acquisition, Andrew Forrest said R.M. Williams was a quintessential Australian brand with a long and proud history of high-quality Australian craftsmanship.
Forrest, who grew up on Minderoo Station in Western Australia's Pilbara, added: "I started out as a jackeroo and continue to have a deep connection to the land and the people who work the land. I've never forgotten the first time I pulled on a pair of RMs."
Caption: R.M. Williams boots.